DESCRIPTION
What is solar film?
Solar film, also known as reflective film or mirror film, is the perfect option for excess sunlight and glare. Noyark stained silver solar control window film gives instant results and can be applied to most glass surfaces. 
With a sleek appearance and hugely effective heat and glare reduction capabilities, solar film has long been the preferred solar control option for commercial buildings. Many working on computers close to windows can be affected by excessive amounts of light and glare that can often cause headaches and a loss of productivity. This is why solar film can be a useful tool for workplace wellbeing.
How does solar film work?
As probably expected by its name, sunlight is reflected away from the window by the reflective finish of the film. This type of film also stops 99% of UV light from entering. This can be especially useful for any painted objects or furnishings in your office or home that can become faded over time.
Meanwhile, it provides privacy during daytime hours, something especially useful for offices or rooms on lower levels in residential areas. The level of privacy that this film does, however, vary. The darker the film, the more reflective it is – so if you would be purchasing solar film primarily for this reason, opting for our darkest solar window film would be best. 
BENEFITS
| | |
| --- | --- |
| Anti-glare | Embracing natural light, our solar film let in the light, not the glare. |
| Comfortable | Regulate the temperature disparity from sunny to darker areas of your building—and enjoy a more comfortable living environment all year long with our solar window film. |
| Privacy | Our solar tint film ensures the privacy during the day and it doesn't block your view of the world! |
| Safe | Broken glass is one of the main causes of death or injury during an explosion. Our solar glass film reduces these hazards by keeping shattered glass together. |
| Energy-saving | By rejecting up to 86% of the sun's heat, our solar reflective film dramatically lower air conditioning costs in warmer months and retain heat in winter to reduce heating bills. |
| Uvioresistant | Our solar mirror film blocks out up to 99% of the sun's damaging UV rays, which can prevent fading of your floors and soft furnishings. |
SPECIFICATIONS
Color

Double Silver

Red Silver

Green Silver

Blue Silver

Gold Silver

Black Silver

Gray Silver

Bronze Silver

Size

1.52*30m

Thickness

2mil

VLT

25%

10%

23%

 27%

 26%

 15%

 20%

 10%

UV Blocking

99%

99%

99%

 99%

 99%

 99%

 99%

 99%

IR Blocking

88%

82%

83%

 86%

 80%

 89%

 87%

 85%

Packing Size & Weight

160*13*13cm, 8KG
DETAILED IMAGES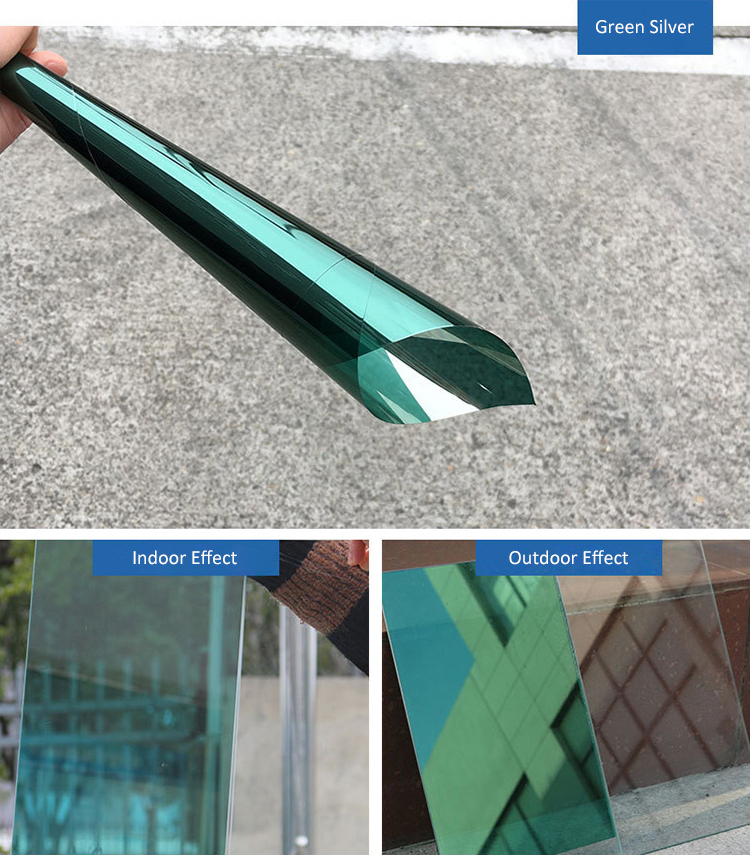 PACKING IMAGES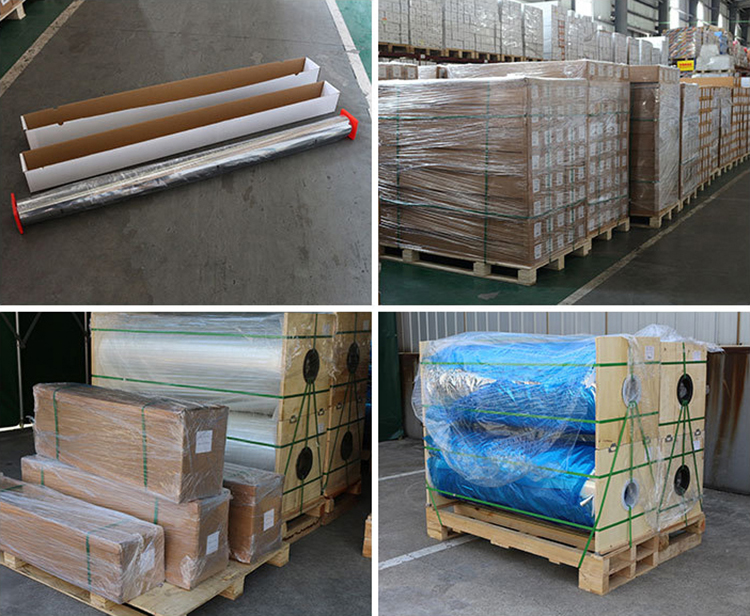 INSTALLATION AND MAINTENANCE
How is solar window film applied?
1. Cut the film approximately to size using a straight edge and retractable knife.
2. Clean the glass, and spray the sticky side of the film and the glass with soapy water.
3. Apply the film to the glass, squeegee the water out and trim the excess film.
How long will the solar tinting film last?
The solar film is very resilient, durable and will last for many years.
Can I remove the solar reflective film at a later stage?
Absolutely. You will need a spray bottle and some soapy water, and as wide a glass scraper as you can get. 
How to clean silver solar mirror film?
1. Just clean with soapy water and a squeegee, that's all.
2. Do not use anything abrasive on the film or it will scratch it.
3. Do not apply any type of sticker or adhesive on the film.
4. Wait for 4 weeks after installation before you clean the film.
FACTORY TOUR